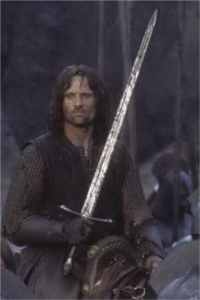 Sword of the Kings of Gondor, Anduril was reborn from the shards of Narsil, the sword of Elendil, which was broken by the evil Sauron in the Battle of the Five Armies in the Second Age of Middle Earth, when Isildur, son of Elendil, cut the Ring of Power from Sauron's hand. The Sword that was Broken was passed down through the generations of Isildur's heirs, until it came to Aragorn, who had the weregild remade in anticipation of his final confrontation with Sauron, and the battle to free Middle Earth from evil.
With the purchase of the Sword and Outfit above, you will also be provided with a parchment certificate of authenticity.
These items are officially Licensed Adult Collectible Reproductions
With over 100 million copies sold in over 40 languages, millions have grown up with "The Lord of the Rings," the classic epic tale considered by millions to be the greatest fantasy-adventure story ever told. J.R.R. Tolkien's phenomenal epic trilogy chronicles the struggle between good and evil for possession of a magical ring. The book trilogy, named the most popular book of the 20th Century, is the motion picture event of the 21st Century. "The Lord of the Rings" is presented in a trilogy of feature films from New Line Cinema, "The Fellowship of the Ring," "The Two Towers," and "The Return of the King," the last released in 2003. A work of sheer invention on a staggering scale, "The Lord of the Rings" takes us back to Middle-earth, an era that predates written history, where humans share the world with immortal elves, powerful wizards, and industrious dwarves.
This authentically detailed sword and scabbard is a reproduction of the prop prominently featured in "The Lord of the Rings" film trilogy, presented by New Line Cinema. United® Cutlery Brands, industry leader in fine movie knife and sword reproductions, has meticulously recreated the actual prop scabbards, using the finest grade materials and craftsmanship of the highest quality available. Features include genuine leather wrap and straps, solid metal collar, fittings, buckles, and tip with antiqued metal and brass finishes. Includes a companion hunting knife, which is housed in its sheath on the side of the scabbard. Knife features include a stainless steel blade and pommel, wood handgrip, and brass bolster. Strider used the knife to cut leaves from the Kingsfoil plant in "The fellowship of the Ring," He then used the leaves to help heal the wound Frodo received from the Witchking.