Click Here to Go To Rich Emporium HOME
Perfect for anyone on your gift list. The Rich Emporium Gift Certificate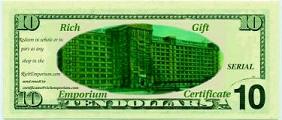 Gift Certificates
What better way to give an exotic gift. Our extensive internet catalog of rare and unusual items makes just reading the catalog a fun and very enjoyable experience. The Recipient of your gift will enjoy the shopping experience as well as your gift.
Ask us to notify your Gift Recipient. Or you can print your own certificate now, and attach the registration serial number when you receive it later. (how to do this is explained at: Print your gift certificate .)
Gift Certificates are redeemable for any of the merchandise on the Rich Emporium catalogs. These can be redeemed in whole or in part anytime with Rich's.
Rich's Gift Certificates are available in $10 increments.
Adjust the quantity of certificates on your order upon check-out to give any amount that you wish; an account will be set up in your recipient's name. (To give this gift to more than one recipient, see below.)

When checking-out, send an email message to us with Recipient's name.
We also have suggestions for Presenting your Gift you might first like to read at:
Go to PRESENT YOUR GIFT
Use the button above for a gift to one recipient.
Use the buttons below for additional recipients.
Additional Gift Account
2nd recipient

Additional Gift Account
3rd recipient

Additional Gift Account
4th recipient

Additional Gift Account
5th recipient
One SERIAL # is issued for each account per recipient. The amount placed in an account is determined by the quantity of certificates selected when you check out. Use these 'Add to Cart' buttons to open each account with $10.00 each. When checking out, raise the amount of the gift by changing the quantity ordered.
When you check-out, send a message to us listing Recipient's names.
Also see: PRESENT YOUR GIFT
If you have any questions, please contact:
For questions about this process:
sales@richemporium.com
For questions about existing gift accounts: (inquiries from Purchasers or Recipients WELCOME)
certificates@richemporium.com
THANK YOU!