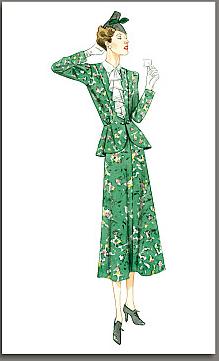 The rumblings of WWII are heard in Europe, but in the US there is a watchful calm. Orsen Wells broadcasts War of the Worlds, leading some Americans to believe that Martians have invaded, the ballpoint pen is invented and Teflon is created. The Life of Emile Zolla wins the Academy Award for Best Picture and Roy Acuff joins the Grand Ole Opry.
#N199 Semi fitted unlined jacket with button front. Short sleeved pullover dress has ruffled front.
This dress is created using an authentic pattern from the era with modern sizing.

Available in Misses/Womens sizes 6-20 and Juniors sizes 3-15
Available in Red, Black, Pink, Blue, or Green jacket and dress with contrasting white ruffle Cotton/Polyester fabric $200.00

(See also Hats 1860-1960)