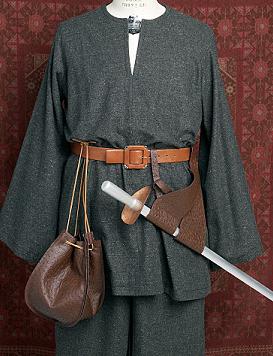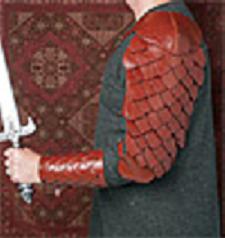 When a warrior needed lightweight protection and mobility, he just could not beat leather armor.. Pieces like these were worn in the middle ages alone when freedom of movement was needed, or with heavier metal armor in battle. They were made of heavy leather, sometimes hardened by boiling (although too much hardening could make the leather brittle and so, useless). Usually, several layers of leather were lashed together or layered in scales to increase the protection and the probability that one would survive a battle.
Bracers are cuffs worn around the wrists and sometimes the forearm. They can be made of a variety of materials, including woven or fish scale leather. They can be fastened in many different ways - ties, straps and lacings. They were worn in ancient times as well, with the Romans using them extensively, sometimes studding them with metal to increase the protection offered.
ers are coverings for the shoulder and upper arm. They are fastened about the upper arm or by straps crossing the chest. Many soldiers chose to protect only their sword arm with a spaulder.