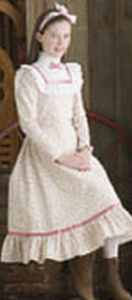 The semi-autobiographical books of Laura Ingalls Wilder detailed her life in a pioneering family. She was the second of Charles and Caroline Ingalls children and was born near Pepin Wisconsin in what was in 1867 called the Big Woods. Charles was a restless man and settled the family in the Indian territory of Kansas before returning to Wisconsin. The itch struck him again and the family relocated to the Dakota territory where he got a job with the railroad in DeSmet, South Dakota, where they watched the town spring up around them. It was here that Laura met Alamanzo Wilder, whom she later married. She was a teacher, but when she married, became a prairie farmers wife. Her life at this point was hard and often disasterous and included the death of her newborn son, fire, drought and sickness, events that she detailed in The Fiirst Four Years. Laura and Alamanzo finally found their place when they relocated to Missouri and began farming again. Over the years, with the help of Alamanzos family, they purchased a property and built a successful dairy and fruit farm
Laura Ingalls Wilders books are part fiction, but present many events and characters that are identical to her own life. For example she had a sister of her own named Mary. In Wilders books, Mary was much more proper than her little sister Laura. She was the responsible older sister who watched out for the smaller children. In real life, as in Wilders books, Mary lost her sight after an illness, but, as in the books, with real pioneer spirit, she adapted and lived a full life.

#C218 One piece dress with square ruffled yoke, high collar, long sleeves and ruffle about the hem.
Available in Girls sizes Small (6-8) Medium (10-12) Large (14-16) X-Large (18)
Available in Green, Blue, Pink or Red Cotton/Polyester printed fabric $80.00