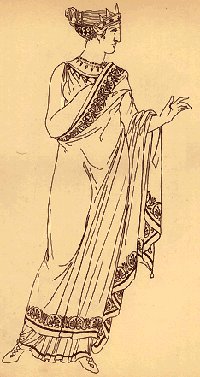 Aphrodite One of the most mischevious of the goddesses,
Aphrodite reigned over love and beauty
. Zeus forced her to marry Hephaestus in order to control the jealousy and keep the peace among the other gods. This, however, did not keep her completely under control, and greek mythology is filled with tales of her meddling in the affairs of both gods and men.

#G443 Draped Chiton with trimmed coordinating palla wrap. (Sandals, hair ornaments & jewelry not included)
Available in Misses/Womens sizes 6-24 and Juniors sizes 3-15
Available in White or Blue Cotton/Polyester fabric $90.00