Ft. Frontier Provisions
Supplying the Tools for A Simpler Life



Pressure Cookers/Canners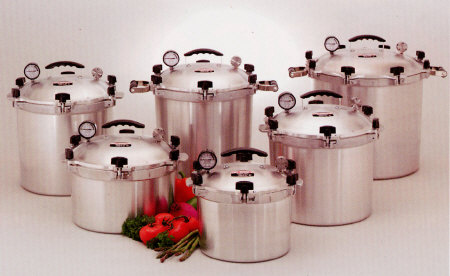 Pressure canning is the only method considered safe for low acid foods by the USDA. The superb craftsmanship of these tough cast aluminum cookers allows a steam tight metal to metal seal with no gasket to warp or crack. 250 degrees at 15lb per square inch guarantees bacteria kill. Easy on-off cover. Positive action clamping wing nuts permit easy open and close. Equipped with two automatic venting features, safety control valve and overpressure plug . Includes cooking canning rack and instructions.



#FT502

Size: 10.5 quarts
Jar Capacity: 7 pints or 4 quarts
$158.00



#FT503

Size: 15.5 quarts
Jar Capacity: 10 pints or 7 quarts
$178.00



#FT504

Size: 21 quarts
Jar Capacity: 19 pints, 7 quarts , or 4 half gallons
$198.00



#FT505

Size: 30 quarts
Jar Capacity: 19 pints, 14 quarts , or 4 half gallons
$288.00



#FT506

Size: 41 quarts
Jar Capacity: 32 pints, 19 quarts , or 6 half gallons
$438.00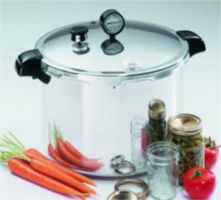 Pressure cookers by Presto provide safe canning or cooking at an affordable price. The easy-to-read dial gauge and the cover lock allows accurate setting and pressure to build only when the cover is closed properly. These models can also be used for water bath canning. Units are made of warp-resistant aluminum and are suitable for use on regular and smooth top ranges. Includes rack and complete instruction book.




#FT500

Size: 18 quarts
Jar Capacity: 10 pints or 7 quarts
$93.53



#FT501

Size: 23 quarts
Jar Capacity: 19 pints, 7 quarts , or 4 half gallons
$107.83
FT. FRONTIER is dedicated to maintaining a full line of products and supplies for those who live a simpler life without electricity
Contact: FtFrontier@richemporium.com