Ft. Frontier Provisions
Supplying the Tools for A Simpler Life

Home Pasteurizer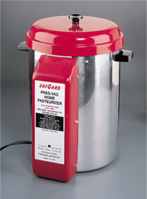 The Safegard Home Pasteurizer has pressurized heating and vacuum-sealed cooling, presenting the advantages of faster pasteurization, better flavored milk, and destruction of disease-producing bacteria without overheating. A heavy-duty thermostat controls the temperature, keeping it between 155° and 159° F. The thermostat automatically shuts off the heat when pasteurization is complete and then turns on a buzzer to let you know the milk is ready for cooling. Holds up to 2 gallons of cream or milk. Heavy duty alluminum construction and easy to clean design. Electric. 1250 watts, 110-120V AC. UL listed. One-year manufacturer's warranty.




| | | |
| --- | --- | --- |
| #FT539 | | Safegard 8 quart capacity $350.00 |



| | | |
| --- | --- | --- |
| #FT540 | | Safegard 8 quart capacity, dual temperature control $550.00 |
FT. FRONTIER has a full line of products and supplies for those who live a simpler life without electricity
Contact: FortFrontier@richemporium.com