Ft. Frontier Provisions
Supplying the Tools for A Simpler Life



Meat Hooks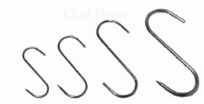 Set of 4 solid stainless steel meat hooks includes one of each: 4 in., 5 in., 6 in. and 7 in. hook, each sharpened to a point on one end only. Perfect for smoked foods, curing proscuitto, hams, fish and hanging large pieces of meat.




| | | |
| --- | --- | --- |
| #FT516 | | Set of 4 meat stainless steel hooks $32.00 |
FT. FRONTIER has a full line of products and supplies for those who live a simpler life without electricity
Contact: FortFrontier@richemporium.com