Ft. Frontier Provisions
Supplying the Tools for A Simpler Life



High Capacity Manual Grain Mill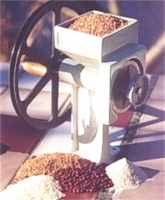 Heavy duty grain mill can be run either manually or by electricity (with attachment). Made of cast aluminum with a chip resistant powder coat finish, the unit has 5 inch carbon steel burrs, sealed bearings, and utilizes a V-belt flywheel. Grind is adjustable from animal feed coarse to fine flower in a single pass. You can even use it to grind peanut butter! There is a 20 year warranty for manual operation.



| | | |
| --- | --- | --- |
| #FT513 | | High capacity grain mill $454.99 |



| | | |
| --- | --- | --- |
| #FT513A | | Large auger for high capacity grain mill $38.99 |



| | | |
| --- | --- | --- |
| #FT513B | | Long extension handle for high capacity grain mill $34.99 |
FT. FRONTIER has a full line of products and supplies for those who live a simpler life without electricity
Contact: FtFrontier@richemporium.com